proEPRO CONTACT CENTRE SOLUTION
Services > System Solutions > proEPRO Contact Centre Solution
proEPRO Omni-channel Contact Centre Solution
EPRO TechSoft provides you a one-stop solution catering to all your contact centre needs with guaranteed profound process improvement and customer satisfaction. We are committed to provide the market a seamless solution that enables our clients to achieve perpetual and profitable connection with their customers, and therefore, we are proud to present the EPRO-owned total contact centre solution – proEPRO Omni-channel Contact Centre System. proEPRO is a state-of-art total solution complements with integrated professional services from system development, customized training to ongoing technical support and maintenance.
T
he proEPRO is an experience-based contact centre system, developed by EPRO's R&D team based on our decades of expertise in contact centre operation and management. With the meant to provide dynamic supports in the rapid-changing multi-media environment, proEPRO is the most feature-rich communication server and cloud-based system in the market.
Developed on Soft-switching Technology with integration to all kinds of customer preferred contact channels such as voice, email and online customer services including live chat and video capability.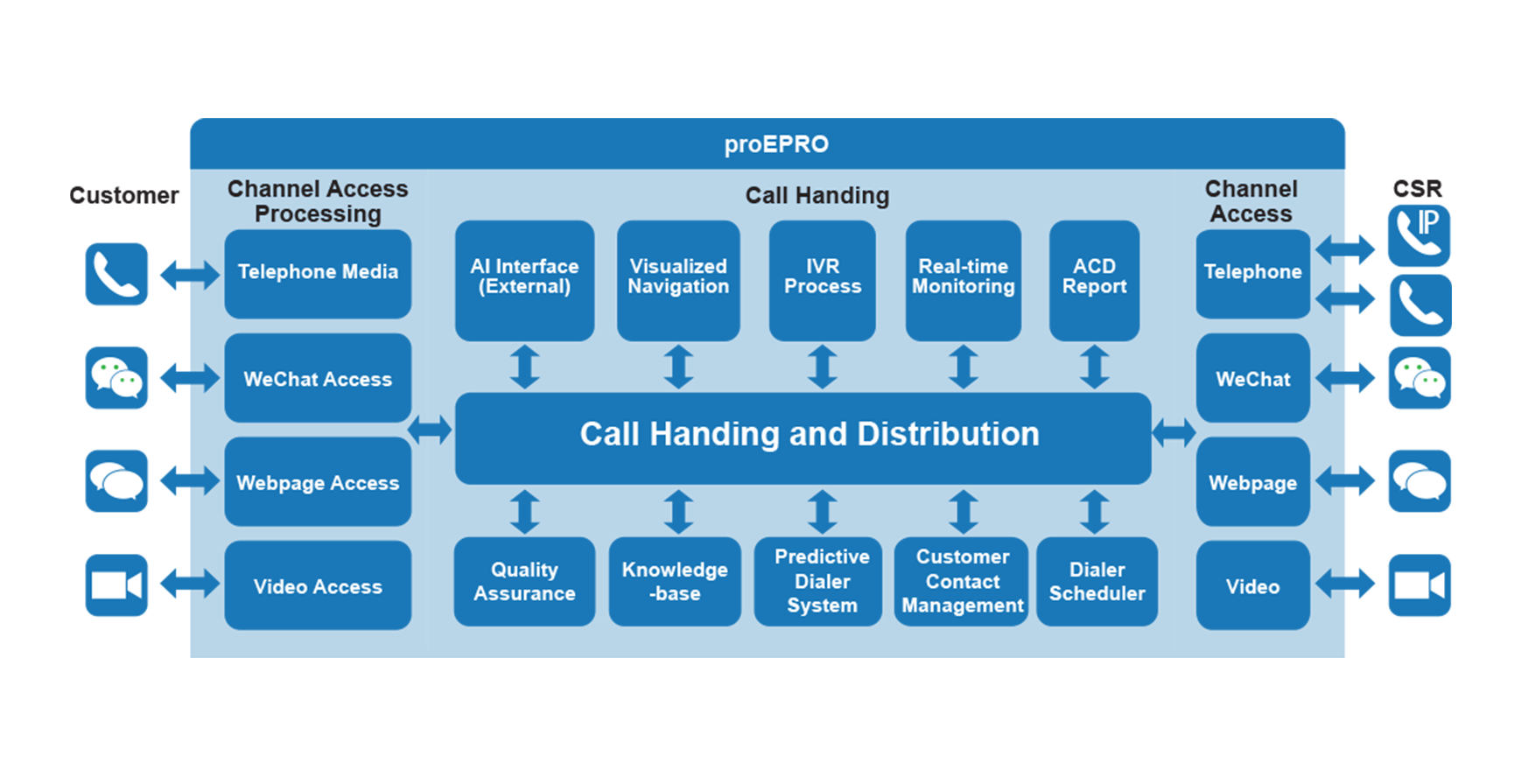 With the comprehensive EPRO's solution platform, clients can build on top of its proprietary applications to provide or manage services and projects such as the followings:
T
he proEPRO solution has been successfully implemented in numerous sites in diverse industries; from small to large scale contact centre operations, thousands of agents are using proEPRO solution in their daily work in Hong Kong, PRC and Macau.
The talented-design Cloud Based platform of proEPRO with API enables integration of proEPRO with other applications, allowing custom and flexible solution serving various purposes.
Our dedicated software development team keeps constant upgrade and maintenance of the solution, to ensure it can meet with the ever-changing needs in the dynamic business environment.
As a stand-alone contact centre system platform may not be sufficient to meet your business needs, an integrated solutions with other critical business functional areas which are available in EPRO TechSoft's solution suites.